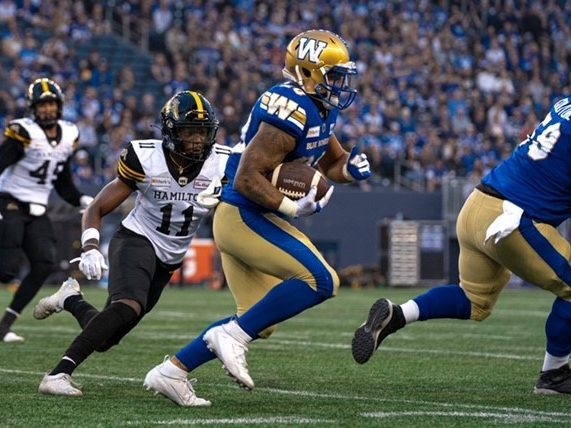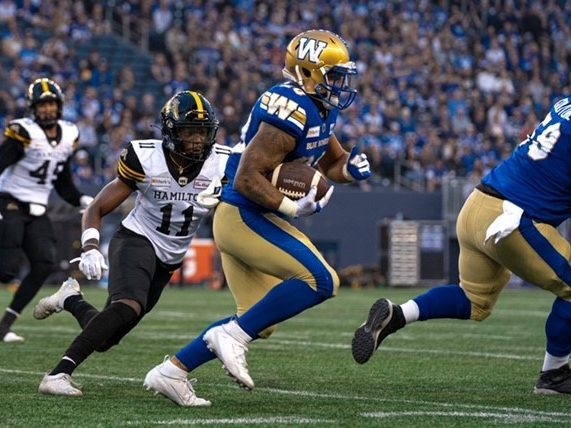 Article content
The Winnipeg Blue Bombers appear to be set at running back, a stable that does not include future Hall of Famer Andrew Harris.
Article content
The two-time defending Grey Cup champions re-signed local product Brady Oliveira to a two-year contract extension on Monday, giving them two Canadians to share the load and compete for the starting position.
Oliveira, 24, and Johnny Augustine, 28, are the heirs apparent to Harris, who's expected to hit the free-agent market at noon on Tuesday.
The Bombers weren't expected to be able to return all three for two reasons, one financial, one practical.
To keep Oliveira and Augustine, two tailbacks who've shown considerable promise, the Bombers needed to bump their salaries this year, leaving less for Harris, who earned around $150,000 last season.
Oliveira and Augustine also need playing time, something they might not get much of if Harris were to return.
Article content
At 34, injuries began to catch up with Harris last season, further complicating the picture and the financial risk for the Bombers if they re-signed him to a significant contract.
In Oliveira, the Bombers retain a Winnipeg product whom they drafted in the second round of the 2019 CFL draft, out of the University of North Dakota.
The Oak Park High School grad finished second, behind Harris, with 429 yards rushing last season, starting six games when Harris (623 yards) was injured.
Oliveira's rookie season, 2019, was cut short by a broken leg in the team's first home game.
He and Augustine re-signed for two years.
The Bombers also re-signed American defensive back Nick Taylor on Monday, retaining a starter in their secondary.
Some key players still remain, however, among Winnipeg's pending free agents, including Kenny Lawler, the CFL's leading receiver last season, safety Brandon Alexander and kicker Sergio Castillo.
View original article here Source